How to find and delete duplicate files: Who knows saving their favorite pictures and important files may lead to a poor performing PC. We all tend to simply move files, documents, images, etc from one place to another and make copies of them at multiple places. Also, the application we download occupies a lot of space and if not taken proper care lead to wastage of storage space. This happens because we use these applications only once or twice and then they sit idle occupying precious disk space. Having an optimized and clutter-free storage space is important for the smooth functioning of a Windows PC and if cluttered makes the overall performance very beggarly.
Finding duplicate files and other data manually seems impossible as we cannot reach in the cavernous corners of the Windows 10 PC and look for them. Moreover, we need to be too technically advanced to do all this and even if we are this requires a lot of time and energy which none of us have. Hence we need to look out for a smart way to find duplicate files on our Windows 10 PC and for this there are ample multi-functional utilities that can make the task of finding duplicate files easy and less time-consuming.
Once such a tool that can simplify your work if Duplicate Files Fixer by Systweak Software. This nifty yet effective tool searches all the corners of your Windows 10 PC and easily finds duplicate files. Using this tool one can restore precious disk space by easily removing redundant files and making the performance better.
Duplicate Files Fixer By Systweak Software:
Systweak Software is a well-known software company in the industry for the past two decades and makes innovative and effective tools for all platforms like Windows, Mac, iOS, and Android.
One of its most selling tools is Duplicate Files Fixer that optimizes the Windows PC by scanning for duplicate files and easel deletes them, restoring precious disk space. All the redundant files occupy a huge part of disk space and clutter it making the PC face lagging issues.
How To User Duplicate File Fixer:
This duplicate file finder tool has an effective and simple to use interface that makes it audible by every age group. Let's see how to use this product and remove duplicate files:
Download Duplicate Files Fixer by Systweak from its official website.
Once it's downloaded, install it. To do so, simply follow the on-screen instructions and proceed with the installation.
After installed, launch Duplicate Files Fixer. From the main screen add the files and folders you wish to scan for duplicate files.
Now that the files and folders are added, you can let the program scan for duplicates by simply clicking on the button named Scan for Duplicates.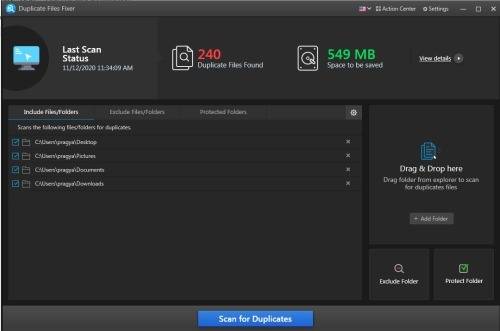 This will start the scan process and depends on the number and size of the files added.
After the scan is finished, this duplicate files finder tool displays all the duplicate files it has scanned.
You can either choose to select the files manually or simply click on the Automark option to select the duplicate files to be deleted.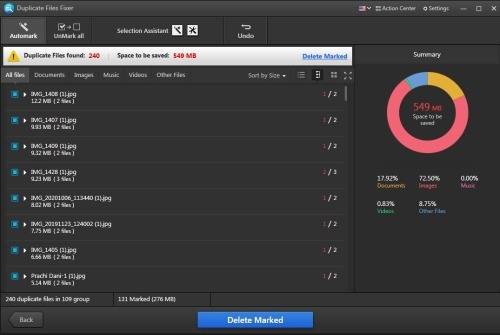 Post this, click on Delete Marked to remove duplicate files from your Windows.
Deleting duplicate files will directly send them to the Recycle Bin.
Wasn't that easy? Whenever you are facing low disk space issues or even have a slow performing PC, simply use this tool to scan and remove duplicate files to recover disk space.
Benefits And Features Of Duplicate Files Finder:
This easy duplicate files finder tool is a place power-packed with features, some of them are:
Easy to use interface.
Simple drag and drop option to add files and folders to be scanned for duplicates.
Automark option to automatically select duplicate files for deletion.
Easy preview option after the scan of files so that you can decide what file to delete or not.
It also gives users an option to create a backup of all the files before deletion so that they can be easily restored if required.
One-click scan reduced manual effort.
It restores and recovers a lot of disk space by removing duplicate files.
This effective tool also scans external storage.
Optimizes and de-clutters the hard disk by removing duplicate files and restoring a lot of hard disk space.
It supports almost all the file formats making it even more useful
It is compatible with Windows 10/8.1/8/7/Vista/XP.
It also has versions compatible with Mac and Android devices.
Download it today on your Windows 10 computer.
Saving multiple copies of files and folders is not unusual. But we only realize our mistake when we start experiencing issues with our Windows PC. We get all sorts of errors like "Your PC is running with low disk space", or " your PC ran into an error" or it even starts to hang and perform very slowly.
One of the major reasons is the cluttered storage space which needs to be taken care of. Duplicate File Fixer does the same for you. It effectively scans the PC for all kinds of duplicate and identical files and deletes them with minimal manual effort.
Also read: How to Speed up Windows Performance with Tuneup Utilities