Profits improve when employees are happy. An ideal workplace is one in which employees feel committed to the organization's mission and are motivated by its higher purpose. Now, as an employer, how can you build an ideal workplace? By strengthening your company's culture, you'll create a healthy atmosphere for your workforce.
Thankfully, technology has made it easier to cultivate an influential culture in any workplace. Even with remote workers, various offices, or a mix of both, technology can connect teams. This connection produces a distinct workplace culture that helps boost employee morale and thus build your business.
A company's morale is defined as the workers' attitude, satisfaction, and overall outlook during their employment. So, how can technology improve employee morale? Read below:
1. Better Communication
With working remotely becoming the new norm, technology can be used to motivate your employees.
Poor communication is one of the issues people face when working remotely. Internal communication might be lost or misinterpreted without physical contact to enhance non-verbal cues. Translations may lose vital information, and speakers may be misunderstood. These issues can also affect internal communication, lowering team morale.
What should you do, then?
You need to use the best communication technology that will address these issues, such as video conferencing tools. Offer virtual corporate experiences for both business and morale-boosting purposes.
Virtual corporate events serve to inspire, engage, and connect remote staff. And since demand has increased the overall quality of virtual events in recent years, you can bring a creative virtual experience that stimulates employee engagement and teamwork.
2. Automation Of Repetitive Tasks
Most employees lose interest when they do the same thing every day. They're assigned uninteresting and redundant tasks that can be readily automated. Repetitive tasks, like entering data, making appointments, and responding to emails, can impact your company's productivity negatively.
On the other hand, automation increases employee productivity and morale by allowing people to focus on key company responsibilities. Plus, it spares them from dealing with the consequences of manual operations prone to human mistakes.
To carry out automation, consider the work routine that must be completed but doesn't require much problem solving or critical thinking. For instance, marketing tasks can be automated. They include utilizing content management programs, blogging, setting e-commerce reminders, and tracking website traffic.
Furthermore, employees can follow up with clients and personalize targeted advertising via email and social media, complete work with the help of bots, and send estimates or invoices. As a result, they're able to manage their time better and feel more confident.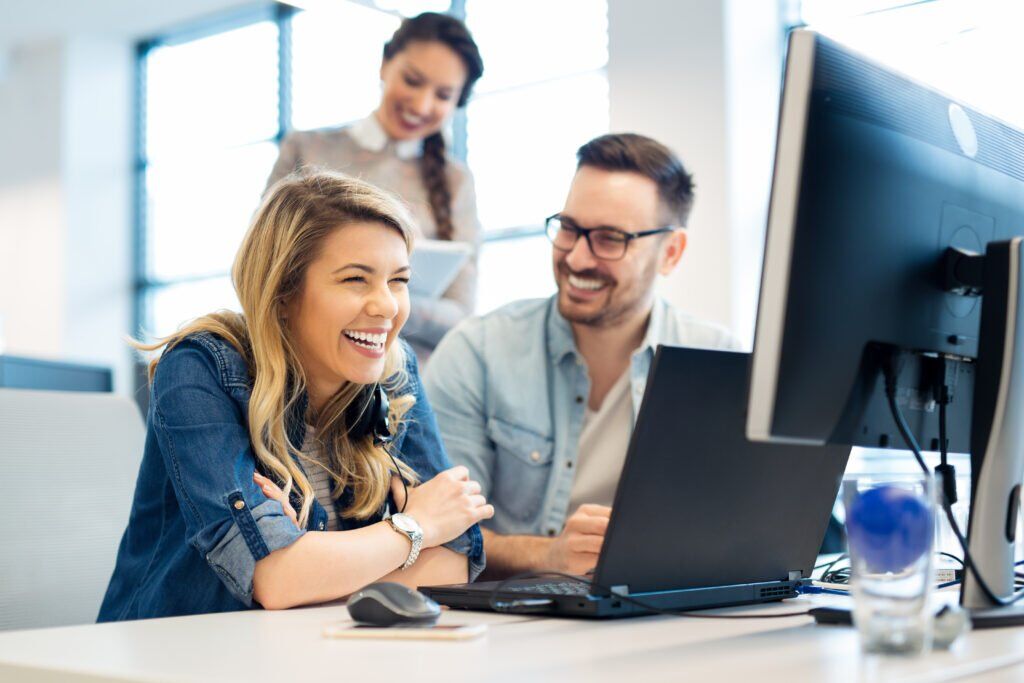 3. Improved Well-Being Of Employees
A healthy workplace culture includes well-being. You can take advantage of technology to promote healthy habits or improve employees' physical and mental wellness.
Sharing progress, exchanging health suggestions, and making inquiries can be done digitally. Moreover, gamification encourages friendly competition among employees. However, it isn't ideal for everyone since some prefer a more personal approach. Nonetheless, introducing it will keep employees engaged. For example, an interactive leaderboard is a gamification feature. It lets employees compete to gain more points. In particular, it will motivate top-performing employees and sales reps to show what they've got.
Notably, wearables and other health-related technology capture a lot of data that can offer employers meaningful insights. Employee-generated data can help businesses plan strategic health and wellness programs. You'll be able to have a workforce that's healthier and more productive when you combine data with benefit claim experience, sick leave, and health risk assessment.
4. Enhanced Collaboration
In addition to communication, the use of the right technologies enhances collaboration among employees. Here are some of the most important measures and tech upgrades that can facilitate collaboration, improve employee morale, and enhance their job performance.
Boost Internet Speed: Slow Internet is the worst. Especially when it interferes with your work. Increasing your employees' online performance will reduce their perception of time that's wasted on waiting for files to load or web pages to open. Consider upgrading your internet speed. Use a standard that will likely dominate the market for the next decade and evolve to meet changing networking needs.
Provide Multiple Monitors: Providing extra monitors is a realistic choice when evaluating new tech upgrades to boost employee morale. Multiple monitors are typically acknowledged for increasing productivity. Several studies claim that several monitors reduce user pleasure.
Implement Cloud-Based File Sharing: Cloud-based file sharing solutions help boost staff morale by increasing document sharing and collaboration. This is especially true for departments or professionals who regularly work with big files. Cloud file sharing and syncing allow employees to collaborate on projects from any internet-connected device.
Use Shared Whiteboards And Forums: Tools, like Slack and Trello, allow staff to collaborate smoothly. With the proper tools, you may share files, generate ideas, ask questions, and compare notes.
Document Scanner: Searchable electronic files created by scanning paper documents make retrieval considerably easier. Staff can access a secure system and search for items using keywords. There's no need to dig through cabinets or drawers, so it's quick and easy.
Conclusion
It's no secret that happy employees create a great organization. The longer you wait to provide proper equipment, the lower staff morale can get.
Productivity and satisfaction are connected. Hence, improving technology will always be a good idea to boost employee morale.
Read also: How Technology Can Improve Your Investment Decisions