Summary: Are you looking for a solution to migrate Exchange mailbox to Office 365? Then, you are on the right page. Many organisations are moving towards the Office 365 cloud platform to secure their data. You can migrate mailbox from Exchange to Office 365 with manual Hybrid Migration and professional EDB to PST Converter to directly migrate all your mailboxes from Exchange to Office 365.
However, Exchange 2010 to Office 365 migrations are challenging and require expertise and support. Many small business industries can't migrate their data due to a lack of support. Before migration, you have to choose the migration methods such as Staged, Cutover, and Hybrid migrations. Furthermore, each technique is used based on a business's migration requirements.
Before moving forward, let's discuss why we need to migrate from Exchange to Office 365.
Why Exchange to Office 365 Migration?
A migrating mailbox from Exchange to Office 365 gives very significant advantages to its users. Some of them are given below:
Office 365 gives you more flexibility by handling and configuring support.
Office 365 is cost-effective as compared to Exchange Server.
Microsoft ensures your data security. You don't have to worry about data loss due to technical faults.
There will be no server downtime with Office 365. All updates and bug fixes perform automatically.
Malware and phishing attacks can be stopped quickly, and protection goes beyond your email address.
How to Migrate Mailbox from Exchange to Office 365 Manually?
Hybrid Migrations stores some of the data on the server and the rest in the cloud. It Approaches smooth migration of data with minimal risk for your business. This migration comes in two different types Minimal and Full Hybrid Migration. One will have to perform the Exchange to Office 365 migration based on the number of mailboxes. It is described in three processes, i.e., Cutover, Staged, and Hybrid Migration. Let's discuss each of them one by one.
Cutover Migration
In this migration process, you can move all mailbox items from the old Exchange service to Office 365. It can be done in 2003 and later versions of Server. However, users can migrate up to 2000 mailboxes at once using this method.
Staged Migration
Exchange 2003 and 2007 mailboxes can be migrated using this method. For migrating data from Exchange 2016, this method is not capable.
Hybrid Migration
All hybrid environments can benefit from this migration. Users can migrate data from Exchange 2010 or a later version. For Hybrid Migration, you have to install Azure AD Connect.
IMAP Migration
IMAP Migration can only migrate emails during Exchange to Office 365 migration. It is impossible to migrate Contacts, Calendars, and emails using this method.
Steps to Migrate Mailbox from Exchange 2016 to Office 365
Step 1: Verification of Domain
First, you need to verify the domain in your Office 365 account. To authenticate the domain, follow these steps:
Login to Office 365 admin account and click on Setup.
Now, click on Domain to open domain page.
Tap on Add domain to begin the domain wizard.
Here enter the domain name that you use for Exchange Server and Click Next.
Sign in to GoDaddy or add a TXT record to verify the domain page, then click Next.
Here follow the instructions to verify ownership.
Click Done, and the verification panel appears on the screen; now click Finish.
Step 2: Start the Migration
Open Office 365 and click on setup>Data Migration.
Now, choose the data service and click on Exchange>Next. Then accept all the default values and enter the login details of your Exchange server and Office 365.
Here select the types of Hybrid migration (Full or Minimal) depending upon your setup and need.
Now click on Update to start the process.
Step 3: Synchronize Active Directory
To migrate the data appropriately, you need to create users in Office 365. Directory synchronisation is used to create users in Office 365. So you need to install Azure Active Directory Synchronisation (AAD) to attributes.
From the User Provisioning box, choose to Synchronize my users and passwords one time. After that, you can download and install the Active Directory wizard that is used to synchronise the user to Office 365.
Run the AD Connect and select default Express settings.
After the synchronisation gets finished, a page will appear listing all synchronised users.
To begin assigning licenses, click on Users and Active Users.
Step 4: Start the Migration Process
Open Outlook, go to Data Migration> Setup> Data Migration, and choose Exchange from the migration page.
Choose the user mailbox to which you want to migrate Exchange to Office 365 and click on Start migration.
Here it will show the migration process.
To point your internet domain to Office 365, you need to update its DNS records. You will need to update the MX record as indicated on the Domains page of the Office 365 domain setup. Once it gets complete, you may disconnect your local Exchange Server.
Limitations of Manual Method
The manual method is free of cost but has some disadvantages, making it less authentic. Some of the highlighted disadvantages are:-
You can not migrate a large volume of mail using the manual method.
The manual approach is a time-consuming process.
There is always data loss or corruption while performing the steps manually.
These are some common drawbacks users face while migrating the Exchange mailbox to Office 365 manually. Thus, I suggest using the Professional Solution EDB to PST Converter Tool.
Professional Solution to Migrate Mailbox from Exchange to Office 365
The SysInfo EDB to PST Converter tool is the most reliable and intuitive utility to migrate the mailbox from Exchange 2016 to Office 365. It is crafted with advanced features that make it 100% reliable and provide accurate results in very little time.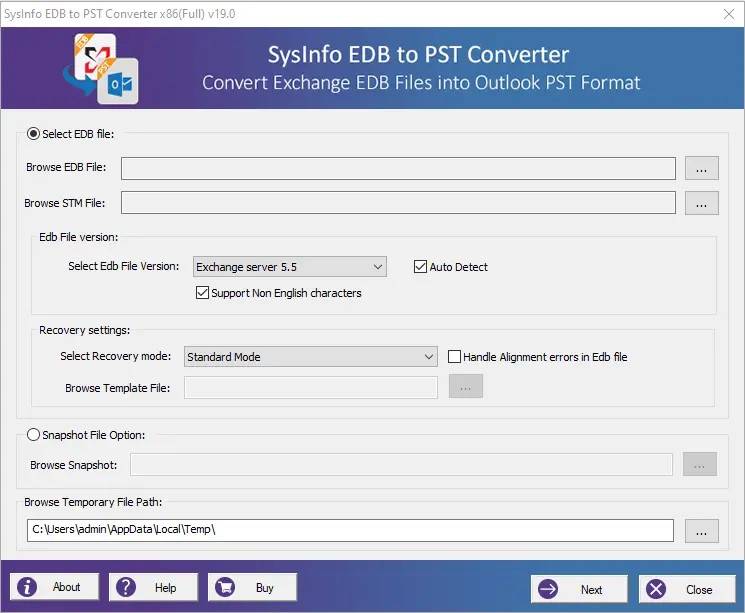 Some of the salient features of this tool are:-
It converts corrupt EDB files to PST or saves them into MSG, PDF, MSG Unicode, EML, MBOX, TXT, RTF, and HTML format without any data lapse.
This tool provides three modes of recovery, i.e., Standard mode for fixing minor corruption, Advanced mode to fix moderate corruption and Deep mode to scan severe corruption.
Users can also recover corrupt Exchange database.
EDB to PST Converter keeps the data intact and maintains the folder hierarchy during the conversion process.
It provides the advanced feature to remove mail of similar nature from the chosen folders.
Download the free demo version of the tool to evaluate its performance.
Conclusion
In this technical guide, you must have learned an idea for how to Migrate Mailbox from Exchange 2016 to Office 365. A complete solution is given in this blog with two different methods: Manual and Professional EDB to PST Converter. This section also discusses other manual ways for this task, but among them, Hybrid Migration is the most popular method that we prefer.
Read more: How to Convert OST to PST File Format Free