Every business needs a content marketing strategy. According to reports from Content Marketing Institute and OptinMonster respectively, 69% of B2B and 60% of B2C companies say they currently use content marketing. Similar studies also found that nearly three-quarters (72%) of marketers believe their company's success depends on its ability to create high-quality content, and more than 80% plan to pump more resources into content marketing, which for them is essential for brand awareness, customer engagement, and conversion rate optimization efforts.
What does all this mean? It means it's time to get started with your own plan if you don't already have one in place!
How do you create a Content Marketing Strategy in 7 Easy Steps?
While it may seem easy, creating a content marketing strategy can be quite a lot of work. It takes planning and time, but the more you do it, the easier it gets. A good place to start is by defining your goals and objectives—this way, you know where you're headed!
Step1: Define Your Goals & Objectives
To build a content marketing strategy, first, identify one or multiple business goals that align with the company's goals as a whole. Once these have been determined, write down each goal and three measurable objectives that lead up to achieving that goal. In this sense, 'measurable' can be seen as criteria for evaluating success across all measures of performance for any given objective – qualitative measures such as perceived ease of use and usefulness can be factored in alongside quantitative measures such as the number of downloads achieved.
Step 2: Study the Target Audience
Every business has a target audience, but not every company understands its target audience. Determine who your target market is by compiling demographic data from recent research studies and other sources to determine where your customers come from, their age range, gender, income level, etc. What kinds of products or services do they purchase? Where do they spend time online? This information will provide you with insight into how to best reach them through your content marketing strategy in a way that resonates with them the most (this part is key!).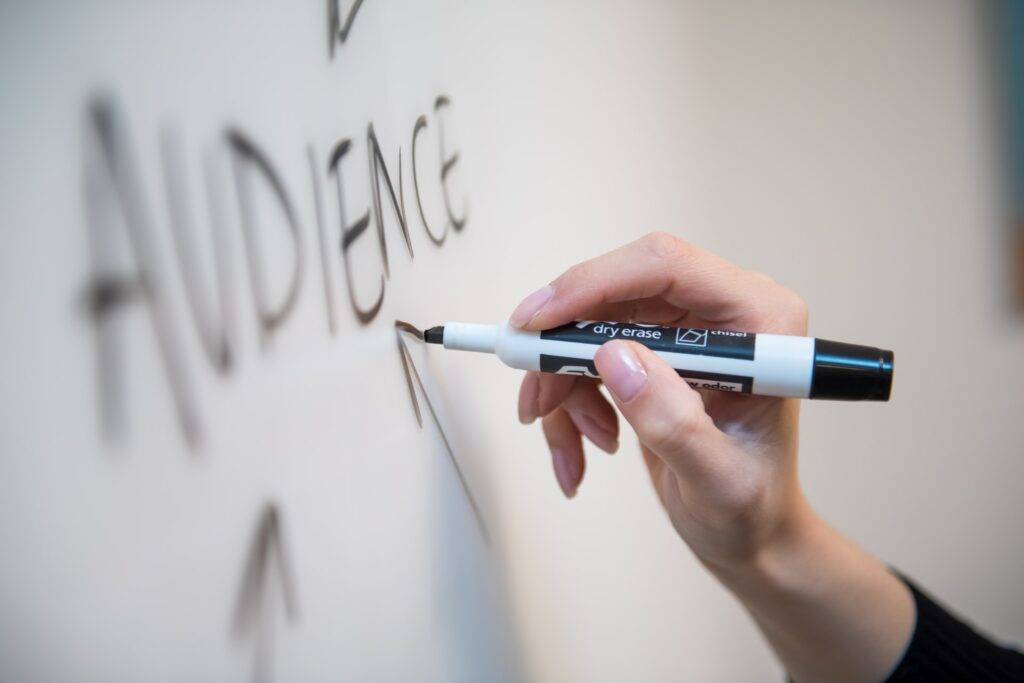 Step 3: Study Competitors' Content Marketing Strategies
Now that you've defined your goals and studied the target audience spend some time learning what others in your industry are doing. What websites are they writing for? How often do they publish content? What kind of content does well for them? Asking these types of questions will help you get a better idea of how to shape your own strategy moving forward.
Step 4: Define Promotion Channels
Promotion channels are the means by which information is shared; in digital marketing, this would include social media channels like Facebook, Twitter, Pinterest, etc., as well as blogs and paid advertising campaigns (e.g., Google Adwords). For each promotion channel that fits into your overall strategy (it could be more than one), answer the following questions:
What are your goals for using this channel?
Who are you trying to reach through this channel?
What are the best times to post content on this channel?
Which types of posts have performed well on this channel in the past?
Step 5: Define Content Plan
Every company should be producing original and shareable content each day, but there must be a plan in place dictating when and how frequently it will be published. For example, if you plan to share video content daily, write out specifically when each piece of video will go live (e.g., Monday at 5 pm and Wednesday at 11 am). If you're only going to produce a handful of pieces per month, plan out each piece in advance and work backward from there.
Step 6: Monitor Results & Improve Strategy
After you've published a few pieces of content, monitor their performance to see what content performs well and what doesn't. This information can help inform future planning and help you refine your strategy moving forward so that it is even more effective the next time around!
Putting monitoring tools to use: Here are some tools we recommend putting in place:
Google Analytics: Track visitors on your website and which pages they visit the most complete with Google's own analytics tool
Buzzsumo: Very useful for finding trending topics, influencers, and ideas
Hootsuite: An easy way to manage multiple social networks at once
Feedly: Keep track of all the relevant blogs that affect your industry
SEMrush & Spyfu: find out which organic keywords competitors rank for and who their paid advertising competitors are.
Step 7: Define Your Brand's Voice
The voice you use in your content marketing strategy should be the same as what you are using on your website, ads, social media posts, email campaigns, and other touch points with customers. For example, if your brand personality is "professional yet fun-loving," then make sure that tone comes across through all of your content, no matter which format it takes. This means refining the language you use in blog posts to reflect this vibe as well as editing images to suit it (i.e., don't publish a picture of employees having a blast at an event if your company culture is one of ultra-seriousness).
What are Examples of Content Strategy?
There are many different types of content that can be used as part of your strategy. Your choice on the best type of content to use as part of the strategy will depend on factors like; whether you are creating the content yourself or purchasing it from a third party, what your target market prefers to read/view, etc.
Your choice of format will be influenced by the channel through which the content is being distributed. For example, if you plan to distribute content via email, then written content would probably work best as users prefer this medium over video and other media formats. Before we get into the list of content strategy examples, most marketers point to lack of enough time as the reason for failing to nail down their content strategies. A common hack we've seen with conscious marketers who also study is buying UK dissertations. The secret is finding the simplest way of reducing some of the weight on your shoulders.
Here are the most popular content strategies you may want to consider:
Infographics: Infographics are a great way of sharing your brand's message visually. Social media platforms like Pinterest and Instagram have targeted users interested in visuals, so it is important that you upload any infographics onto these channels, too, after publishing them on your website. It is also worth uploading infographics onto relevant blog sites to attract traffic from people who would find the information contained within them useful.
Video Content: Video content can take many forms, including product demonstrations, interviews with staff members or customers talking about their experience using your products/services, webinars, customer testimonials, etc. If producing this kind of content yourself, then it is best not to focus on just one type but try out different formats to see which ones your target market prefers.
Podcasts: These are audio files that can be downloaded and listened to by your audience on their smartphones or on their computer/laptop. You can talk about a specific topic in the podcast, using it as an opportunity to generate interest in your business while also presenting people with valuable information they can use.
eBooks & Whitepapers: These are forms of content that usually give advice/tips on a particular aspect of the business. They contain lots of helpful information, but unlike infographics, they tend to be wordier, so you will need to make sure there is sufficient detail for this type of content to be helpful while still being concise enough for the reader not to get bored! Check out what your competitors are offering in the eBook/whitepaper format, and then think about how you can do something a bit different that will make people want to read yours.
Blog Posts: Blog posts should be an integral part of any content marketing strategy as they help attract new users, engage current ones, and increase awareness of your business online. You can write blog posts about many things, including your industry, sector, or even competitors' news. You could also write a series of posts on a single topic, such as social media tips for small businesses or how to start a successful E-commerce website, etc. When creating blog posts, it is important that you have useful information that other companies in your industry would not have otherwise published, so think about what you can offer readers that is different from the standard content they already receive.
Influencer Marketing. This involves you partnering with other people in your industry who have a big social media following to spread the word about your products/services. For example, if you are a food manufacturer, getting a celebrity chef to promote your product on their website/social media channel would be a great way to quickly gain exposure online. Although influencers often offer their services free of charge, there may be an associated fee involved depending on what they are willing to do for you, so make sure you agree on an agreement before any work begins.
Sponsored Content: Sometimes, it may be difficult to create content yourself, especially if you are busy running the business day today and don't have many employees working for you. In this situation, sponsored content is an option worth looking into as it means someone else will create the content for you, which means you don't need to worry about what should go in or how it should be presented. You would usually pay an agency to create this type of content, but it could be well worth paying for quality that will help your brand look more established and therefore more trustworthy.
What Key areas should you focus your Attention on when planning a Content Strategy?
Do note that planning a content strategy isn't only about checking a few boxes off a list. It's about identifying what you need to do, why you're doing it, and how it will help your business. Here are some of the key areas you should focus on when planning your content strategy.
Goal and Objectives: Without knowing what you want to achieve with the content, it's impossible to know what type of content will be most useful or where you can distribute it to get maximum reach. The more refined your goals are, the better equipped you'll be at reaching them.
Audience: Who is consuming your content? Once you have a good idea about who they are, how many there are, and their interests/likes/dislikes. It makes it easier for you to create an appealing content marketing plan that engages users directly.
Competitors: What does your competition already offer online? What can distinguish you from other companies in the same industry? Knowing the answers to these questions will help you identify gaps in the market that you can fill with your own content.
Promotion Channels: Think about which platforms/channels make sense for your audience(s) and what opportunities they offer when it comes to distributing your content. In some cases, influencers would be a great way of quickly gaining exposure for a product, but an email list might be more effective in others. Social media channels are a popular option but depending on what you're trying to promote, there's no guarantee that people will see your posts in their news feed, so think carefully about where is best to distribute each type of content.
Content Plan: No matter how good your plan is, it's useless if it never reaches your users. Make sure you specify how and when the content will be published and then budget for promoting/distributing it to ensure that your target audience sees what you want to see.
The Bottom Line
Content marketing is a positive way for businesses of all sizes, from startups to big companies with an established brand, to promote their products/services and engage with customers. But it's important that you don't just dive in blindly without understanding what you're doing or why you're doing it. Focus on the key areas above, and if your content plan isn't showing evidence of this, then maybe it's time to go back to the drawing board and check out your strategy again.