Organic marketing or advertising? This is the question tormenting marketers. We have a simple answer – if you want quick results, start advertising. If you have infinite patience, continue with organic marketing. But remember, you can (and should) do both simultaneously. Types of Google Ads, If you've come to this page to learn how to create Google ads, prepare yourself for disappointment. You need to go to the Google AdWords experts for that.
Here, we'll discuss the types of Google ad campaigns you can create. Then, we'll discuss the benefits and effectiveness of each one. Finally, we'll talk about which type of ad is best for which business.
Search Ads
The links that appear after a Google search with the bolded word 'AD' next to it are search ads. Here, advertisers bid to appear on the top of a search result in hopes of clicks.
The advertiser selects a keyword and bids for it. Once they secure a bid, their link is displayed whenever someone in the specified demographic searches the keyword. If the link gets clicked, a portion is deducted from the set budget.
This is a pay-per-click (PPC) ad format.
The edge you get with search ads
Ad targeting: The search intent is revealed in the first step. This will allow you to target people who are looking for exactly what you sell.
Top result: Companies jump through hoops to get to Google's front page. Search ads give you an easy way out. Granted, your link will be marked as an ad.
Effectiveness scale
The average click-through rate (CTR) for search ads is 3.17%. This percentage changes according to the industry. You can see this in the following image.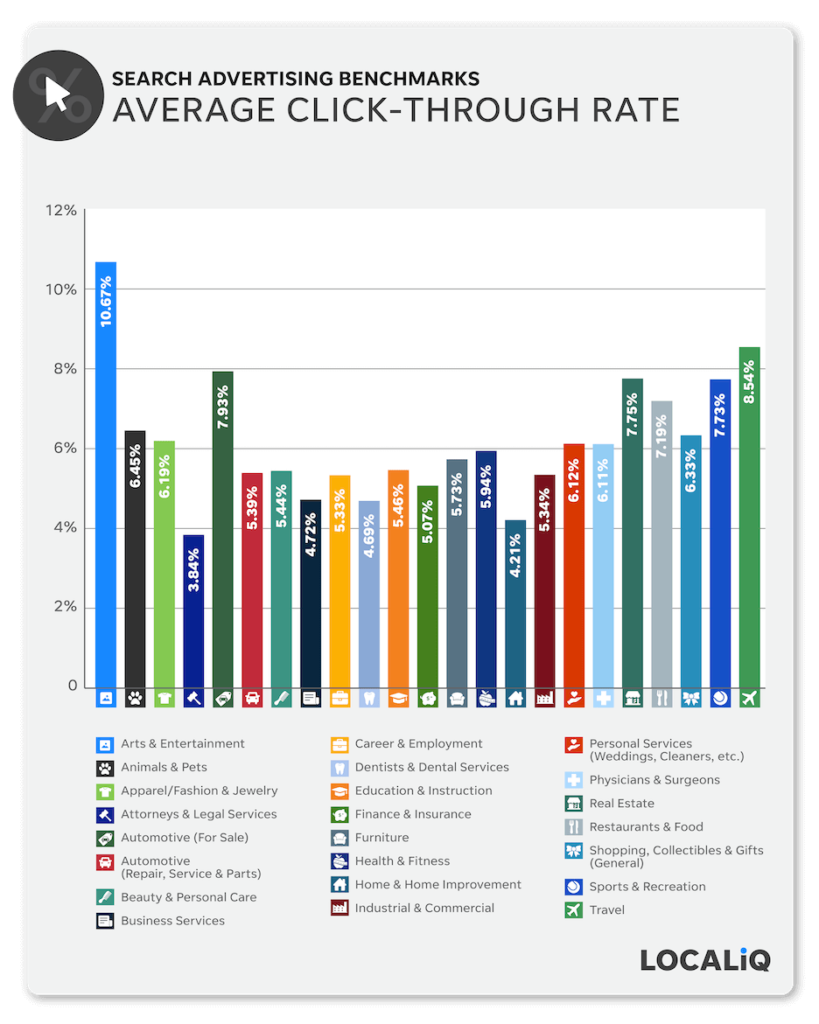 According to Google, for every $1 spent on AdWords, businesses earn a revenue of $2 on average.
Which business should use them?
Google Search Ads campaigns are most valuable for businesses offering a service. Even with meticulous organic marketing efforts, this is the best way to get to Google's front page. Especially if you're in an industry with heavy competition.
According to the graph above, the Arts and Entertainment industry has the most success with PPC ads. This is likely because there is motivated search intent. A PPC Expert can help you create a strategy that really works.
Display Ads
Display ads use a combination of text and visual media to get clicks. Display ads, also known as banner ads, are usually found within websites.
These ads can be in the form of images, text, gifs, or videos. And the best part is they are usually cheaper than PPC ads.
Display ads are most effective for raising awareness. Since this ad takes up considerably more than a search ad, the audience is more likely to notice what you have to say.
The edge you get with display ads
On-page real estate: Even the smaller banners are placed and shaped to grab attention. Since you will be using at least one form of visual aid like an image or a gif, it succeeds in grabbing attention.
Curb competitors: With search retargeting, you can identify customers who have looked at your competitors' websites. You can then target display ads towards them on the sites they visit.
Effectiveness scale
For display ads, the numbers don't always paint the right picture. Here, the average CTR across industries is 0.46%.
But recall where your ad is placed. It's displayed inside a website, not as a search result. And display ads are also more affordable than search ads.
So if your ad is placed on a website with 1 million users, you will still get 4,600 clicks. This is a pretty good ROI considering the cost of display ads.
Which business should use them?
Display ads are a good choice for small businesses and startups because they succeed in building brand awareness. Display advertising is an effective marketing strategy for both B2B and B2C organizations.
Video Campaign
Video campaigns run ads on Google video partners, the most prominent of which is YouTube.
Skippable in-stream video ads are the most commonly used format. But you can also place in-feed video ads. These ads appear on the search and home page of YouTube.
Another format of video campaigns is Companion banner ads. These ads appear alongside an in-stream ad.
The edge you get with video campaigns
Storytelling: It's easier to show off a process in a video format. It can convey more information than most other google ad formats.
Sharable: People are more likely to share video content than display ads. This increases the reach of your message.
Effectiveness scale
According to Wyzowl's State of Video Marketing Survey, 87% of video marketers reported a positive ROI. 86% claim that videos have been useful for lead generation.
Amongst all the video types, explainer videos are the most effective at getting the message across.
Which business should use them?
Companies with SaaS products benefit the most from video ads. This is because you will be able to explain your service without miscommunications.
Video marketing is also a good strategy for travel and hospitality companies. Here, visuals play a strong deciding factor.
App Campaign
This is the best way to promote your app across Google's platforms. The ad can be in the form of videos, images, or URLs.
The edge you get with App campaigns
Multi-platform: You won't need to create multiple ad copies to promote your app on Google's platforms.
Effectiveness scale
According to Google, App campaigns can help drive 140% more conversions than other app promotion methods.
Which business should use them?
Though it's already implied, app campaigns are for organizations that sell apps. This tool is effective across all industries since the targeting is done by Google's algorithm.
Shopping Ad
Shopping ads are product listings that show up on the right side of Google search results. They are also displayed at the top in the Shopping tab. A shopping ad includes a product photo, price, brand, and also rating.
There are two main categories of shopping ads.
Product Shopping ads: You can advertise a single product on search results.
Showcase Shopping ads: Here, you can group a bunch of related products. Your customers can then pick between the options displayed.
The edge you get with search ads
Good product visibility: Your products are displayed at the top of the page along with an image and rating. This effectively grabs attention and leads to conversions.
Traffic quality: Shopping ads are shown to those with a clear intent to purchase. So there's a higher chance the audience will click on your ad.
Effectiveness scale
As we mentioned before, shopping ads are displayed to those with specific search intent. Shopping campaigns also have a lower CPC ($0.66) than the normal range ($1-2). This means you will also save money when running a shopping campaign.
Which business should use them?
According to Wordstream, the HVAC and Climate Control industry experienced the most conversions from their shopping campaign. The medical supplies industry stood in second place.
You don't have to have a huge budget to start your Google ad campaign. Start bidding low till you get the hang of running ads.
Read more: Where Can You Make the Most of Digital Display Systems?