Which smart watch for men are better? We present interesting models that stand out due to their functionality and style, perfectly complement your smartphone and at the same time look great on your wrist.
Which smart watch to choose?
A smart watch for men is something other than a sports watch. They complement the capabilities of the smartphone and are used to display the most important notifications right on your wrist. When SMS, email, Facebook or Twitter arrives, we can read it without removing the phone from our pocket.
They can be connected to the phone, regardless of whether it is the best smartphone.
However, this is only the basic functionality of this type of device. They currently allow much more. Manufacturers attach increasing importance to the parameters associated with monitoring the user's physical activity. Therefore, it is not surprising that elements such as a heart rate monitor, GPS, and even a blood oxygen saturation sensor are more often used.
It is also worth evaluating the growing strength, mainly in terms of water resistance. A good smart watch should not be afraid of rain, swimming or visiting the pool. Recommended water resistance IP67 / IP68 or at least 5 atm.
Samsung Galaxy Watch Active 2 – the best smartwatch for Android phone
Galaxy Watch Active 2 is highly recommended because it is very advanced, modern, well-made, functional and easy to use. By way, this is also one of the fastest working smart watches.
This is an ideal smart watch for men not only for users of Samsung smartphones, but also for people with an Android phone in general. It recognizes dozens of types of sporting events, has GPS, a heart rate monitor and is waterproof.
It also features a very clear AMOLED display. You can connect Bluetooth headphones to it and listen to music without a smartphone – for example, in the gym.
Main characteristics:
Display (diagonal) 1.4 inches / inches
Main processor (frequency) 1.15 GHz
Storage 4 GB
Battery (capacity) 340 mAh
Galaxy Watch Active 2
Apple Watch 5 – the best smartwatch for iPhone
And if you are an iPhone user, the most recommended smartwatch is the Apple Watch 5.
They are expensive, but in practice it is a model of workmanship and speed. It has a bright and detailed Retina display that you can always turn on.
On board there is also a compass that works with maps – this is important for lovers of hiking.
In addition to being very useful and an ECG (which can sometimes save lives), it also has the function of measuring ambient noise.
Naturally, it can track many sporting events, display notifications and allows you to make phone calls.
Main characteristics:
Display (diagonal) 1.78 inch / inch
Phone calls yes
stainless steel case
Apple Watch 5
Samsung Galaxy Watch – one of best smart watches from Samsung
In my opinion, this is still an excellent smart watch in terms of value for money and functionality. They work quickly and are easily controlled by touch or a rotating ring. This offer is for people who value elegant style, which is very true for classic watches.
In addition to the functions associated with the display of notifications from a smartphone, we get GPS, NFC, Wi-Fi, heart rate meter, accelerometer and gyroscope. A big plus is the Super AMOLED display, which provides high image quality and is protected by the good Gorilla Glass DX +.
The case is waterproof up to 5 ATM and complies with the military 810G standard. Typical working hours are 3-4 days. You can make the phone calls directly through the smart watch, as they have a built-in microphone and speaker. However, it should still be paired with the phone.
Main characteristics:
Display (diagonal) 1.3 inches / inches
Main processor (frequency) 1.15 GHz
Storage 4 GB
Battery (capacity) 472 mAh
Weight 63 (without belt) g
Phone rings yes (when connected to a smartphone)
Wireless – NFC, Wi-Fi, Bluetooth 4.2
Fossil Sport – a good smart watch with Wear OS
Elegant simplicity of design, pure Wear OS on board, ease of operation and useful contactless Google Pay function, which works.
It is worth noting that the gadget is a bit slower than the top Samsung and Apple smart watches, although this will not be a problem for everyone. It is equipped with GPS and a transparent OLED display. You can control various sports. The battery should be charged daily.
Main characteristics:
Storage 4 GB
Battery (capacity) 350 mAh
No phone calls
Snapdragon Wear 3100 processor
Wireless – NFC, Wi-Fi, Bluetooth 4.1
Heart rate sensor, GPS, microphone, waterproof up to 50 meters, heart rate monitor, sleep monitor, payment, distance measurement
Huawei Watch GT 2 Classic – elegant smart watches for men
The classic version of the smart watch Huawei Watch GT 2 was created for people who wear smart watches both for training and for a jacket or suit.
The watch looks just beautiful and well made. On board we will find a good 1.39-inch AMOLED display, GPS, heart rate monitor, pedometer and, of course, calorie counter and activity monitor.
You can also make phone calls using your smartwatch (without removing the smartphone from your pocket). Working hours are commendable – we will charge the watch once a week.
Main characteristics:
Display (diagonal) 1.39 inch / inch
Battery (capacity) 420 mAh
Weight: 41g
Phone calls yes
Dimensions (height / width / depth) – 45.9 x 45.9 x 10.7 mm
Wireless – Bluetooth 5.1
Operating System – Harmony OS
Fitbit Versa 2 – a good smart watch for any occasion
Fitbit Versa 2 is a universal smart watch that is suitable for Android and iOS smartphones. He has NFC with Fitbit Pay, so we can pay with these watches in stores in Poland – bringing them closer to the reader. It is waterproof to 50 meters (5ATM) and well made.
You can easily take it to the pool. It counts steps and floors, measures the pulse and oxygen saturation of the blood, you can listen to music on it with BT headphones and works for about 4 days on a single battery charge.
Main characteristics:
Display (diagonal) 1 inch / inch
Weight: 38g
Display (resolution) – 300 × 300 pixels
Wireless – NFC, Wi-Fi, Bluetooth 4.1
Other features – pedometer, accelerometer, altimeter, microphone, water resistance up to 50 meters, heart rate monitor, sleep monitor, calorie counter
Huawei Watch GT 2 Elegant – elegant smart watches for women
But what if you want to have all the most important features of the Huawei Watch GT 2, but in a more feminine and sophisticated package? Then select the Elegant version.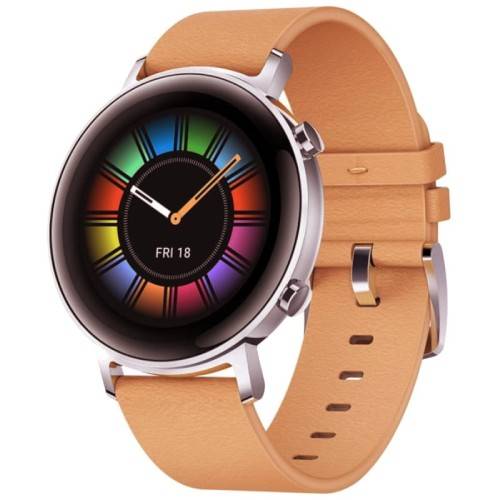 It is equally modern and has the same capabilities, but is equipped with a smaller display and a more rounded, softer body. This is the perfect smart watch for women in the gym and for every day.
Main characteristics:
Display (diagonal) 1.2 inches / inches
Weight: 41g
Phone calls yes
Communication Type – Wireless, Bluetooth
Other features – pedometer, accelerometer, gyroscope, GPS, compass, speaker, microphone, heart rate monitor, barometer, sleep monitor, interval training, distance measurement, stopwatch, alarm clock, calorie counter, alarm clock, water resistance up to 50 metro