You might have heard a phrase that goes like this- "There are different paths to your destination." This is also true in the world of SEO. Each path is sure to take you to the destination that you have dreamt of. But the difference here is some are easy, and others are difficult to venture to. Some may help you reach your destination faster, whereas some will take time. In short, there are approaches that are better than others in regards to results.
Here, in the quote, the path signifies the SEO approaches that will help you as a website rank better on the Google Search engine. Google employs many factors to rank a website on SERP, but it is not practically viable to go with all these factors. Right? However, there are some SEO Toronto factors that are proven to provide better ranking not only on Google but on other search engines as well.
7 Key Google Ranking Factors
Page Speed: Have you ever been to a website that loads slowly? If yes, you might have felt frustrated and bounced to another website. This is exactly what Search engines do not want to feature on its SERP; a website that loads slowly. The loading time of your website is the prime factor that decides whether the visitor will stick or not. So it becomes crucial for websites to optimize their website in a manner that loads in a blink of an eye. To achieve a speed that caters faster, websites should take the following factors into account:
Optimizing the website with lower size images.

Enabling Cache on your Browser.

Minifying the unnecessary elements of a code.

Reducing multiple redirections on your website.
Mobile Friendly: Websites that don't provide the same UX on a mobile device as the desktop version are bound to fail big on Google rankings. You want your website to load exactly the same as it loads on a desktop. This is one of the key factors that Google cares about when ranking any website on the search result page. Why? Because the majority of people tend to use a mobile phone to satisfy their search intent as compared to a desktop. Google understands that the major traffic comes through mobile phones, which is why mobile-friendly websites are eligible to rank higher on search results.
One of the approaches can be employing Responsive Design on your website. With a Responsive Design, your visitors will be able to see the same page for both mobile and desktop versions. In this, the page rendering will depend upon the gadget used to access the information online. In simple words, you will be provided with an interactive web page depending on the device that you are using.
HTTPS: HTTPS stands for HyperText Transfer Protocol Secure. It is a protocol that makes sure that the website is secure from any potential malware attack. HTTPS, which is a new protocol, provides a more secure connection than HTTP. It is obvious that visitors want to continue with a website that is secure. This is the very reason that Google recommends websites to optimize for HTTPS to provide a secure connection between the server and the guest. Optimizing your website with a secure protocol will help you to inch closer to ranking high on Google search results. If you are confused about whether your website uses HTTPS or not, it is easy to check.
Open your Internet browser.
Put your website URl in the Browser's address bar.
Hit enter to load the website.
If the URL of the website features a lock symbol with https, it means that your website is HTTPS secured.

User Experience: The Experience users get while on your website plays a huge role in Google ranking. A website that does not respond to the request of the user or has bad navigation through it will be hard to rank on Google. So it becomes crucial for websites to optimize in a way that provides a better user experience to the users. Some of the best UX practices that you can target in your websites are as follows:
Websites that are Mobile friendly to the users.

Easy breadcrumb navigation through the website.

Informational and Structured Content.

Fast loading speed of the website.

Internal links to the related web pages to provide quick navigation to the users.

Responsive Graphic of the website.

External Links: Also known as Backlinks, they are hyperlinks built on a third party website that directs visitors to your website. External links are seen as a vote of confidence by Google. It is one of the key factors by which Google ranks any website on its search engine result page. But the trick here is that the backlinks acquired should be from a website with good domain authority. Backlinks from a website that is of low quality will not help you rank higher on Google. So, it becomes crucial for the website to earn backlinks as they:
Improve the rankings of the website on SERP.

Boost the credibility of the website.

Help Google and users find new web pages on your websites

Send referral traffic to your website, which increases the chance of converting them to a paying customer.
Content: You can be doing many things to rank your website higher on Google. But the one thing which is sacred to the strategy of acquiring top rank on Google is thoughtful and informational Content on your website. It is obvious that if your Content does not satisfy the search intent of the users, it will not be ranked higher on Google. So it becomes crucial for websites to frame their Content in the following manner to get the online visibility that they had dreamt of.
Writing meta titles and descriptions of the Content with target keywords.

Inculcating images and videos in the Content for better user experience.

Interlinking your related web pages for Google and users to find them.

Providing an external link in your Content that might be of value to your readers.

Framing Content with the target keywords that your audience might search on search engines to find your services.
Schema Markup: Schema Markup is structured data that helps Search Engines such as Google better understand the Content of the website better. By doing so, websites can have their Content featured as rich snippets on Google, which increases the visibility of your website to the audience. For example, let's say you searched for a recipe such as How to make Chicken tikka masala? Here you will get a quick result having important information delivered in a quick and swift manner. A rich snippet includes the time required, ratings, and reviews, among many important elements that dictate the click-through rate on a website.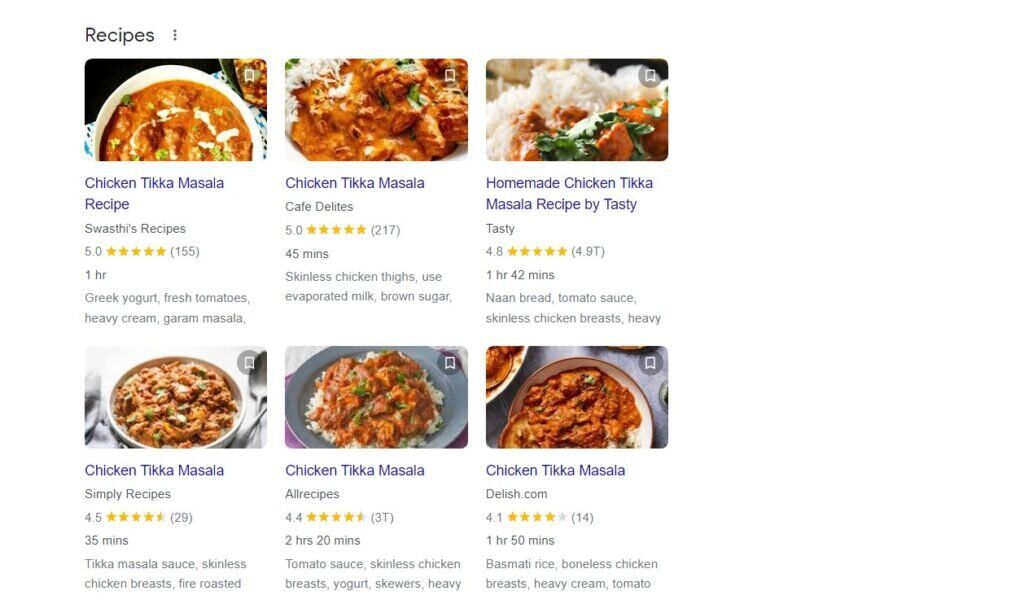 Final Words!!
Ranking a website on Google is a complex process that requires a multi-faceted approach. By utilizing better approaches such as focusing on UX, Content, Backlinks, and optimizing for mobile, you can improve your website's visibility and rank higher in search engine results pages.
Overall, by implementing these better approaches to ranking your website on Google, you can improve your website's visibility, attract more traffic, and establish your website as an authority in your industry. While it may take time and effort to see results, the benefits of ranking higher on Google are well worth the investment.